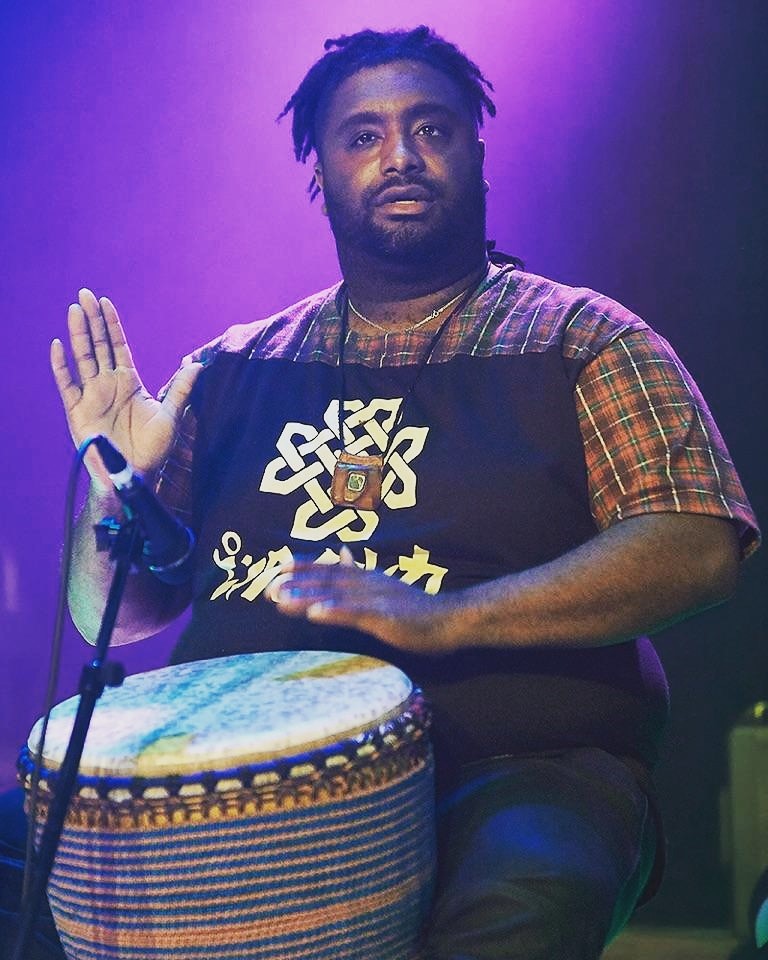 Episode 004 of *The Upful LIFE Podcast* welcomes master djembefola Weedie Braimah to the show for an enlightening chat, in the aftermath of his seismic seance at Music Box Village in NOLA this past May during Jazz Fest. The performance remains one of the most exhilarating and emotionally-connected artistic expeditions that i've ever had the privilege of experiencing. I wrote at length about Weedie Braimah & the Essence of Time in my annual Jazz Fest reflection on L4LM and thankfully FunkIt was there to capture it live on video for all to enjoy. Weedie explains his mission as an artist and a purveyor of love & light, as he details how his music seeks to Edutain, Inspire, and Spiritually Move the Crowd. We get a rundown on the narrative that his ensemble wove with ethereal riddims and melodies that have circulated the globe, how the African Diaspora, and Afro-African music has traversed into and throughout different cultures and environments, mutating into a myriad of styles that define and continue to inform contemporary and underground music. A thrilling conversation with a humble master and shamanic wonder of the drum, in anticipation of his forthcoming tour as Weedie Braimah & the Hands of Time (read more HERE)
Interview was originally intended for L4LM feature, but Weedie was simply too engaging not to release the convo in it's entirety. Hence we present it in full on The Upful LIFE Podcast, five months after it was conducted.
WEEDIE BRAIMAH segment at 29:00 and interview starts at 37:00
But first, we take a look in the rearview mirror with #SnapJudgements from last weekend's monumental Suwannee Hulaween 2018! A brief rundown of the host's favorite and most treasured moments including Jamiroquai's massive electro-funk throwdown featuring Lettuce's Shady Horns, TroyBoi detonating the the Amphitheater Stage, MZG, Justin Martin, Janelle Monae, Chris Karns, Dave Tipper, Break Science Live Band, Vulfpeck, Vlad the Inhaler, The Polish Ambassador & Diplomatic Scandal, The Fritz and much, MUCH more. And a special personalied message from yours truly for the benevolent HULA gods.
That plus the Vibe Junkie JAM of the Week, (24:00) appropriately TroyBoi "Do You" after big homie torched the Amp into Rachet Town USA at HULA on Saturday at sundown. The show ends with an EXCLUSIVE listen (1hr 07min) to the aforementioned Jamiroquai feat. Shady Horns at Suwannee Hulaween, as we unveil the two songs they collaborated on "Hey Floyd" and "Starchild".
Don't forget to email at B.Getz@upfulLIFE.com with feedback OR leave a review on iTunes please.
Big Love to Weedie Braimah, Paul Levine, and Michael Berg! 
Over & Out from NOLA and Spirit of Suwannee Music Park!
~bg~
Theme Song: Mazel Tov by CALVIN VALENTINE